VANCOUVER, BRITISH COLUMBIA - (November 15, 2010) - Canyon Copper Corp. ("Canyon Copper" or the "Company") (OTCBB: CNYC) is pleased to present the following corporate overview.

Canyon Copper is a resource exploration company with an advanced copper and molybdenum property which is located in the Santa Fe Mining District, Mineral County, Nevada. The property is situated next to the town of Luning, NV and approximately 30 miles from Hawthorne, NV. Canyon Copper holds 100% interest in the 1,293 mineral claims totaling 26,713 acres.

Canyon Copper identifies three mineralized zones through current and historical drilling programs. The most advanced of these mineralized zones is the Longshot Ridge oxide copper skarn deposit. The second of these mineralized zones is the Copper Queen sulphide copper and molybdenum deposit, located approximately three kilometers west of Longshot Ridge, which has had significant historical drilling by previous operators. The third of these mineralized zones is the Champion prospect, consisting of both oxide and sulphide copper skarns, which lies between the Longshot Ridge and Copper Queen zones and has numerous widespread exposures of copper skarn mineralization, both in surface outcrop and in old mine workings.

COPPER RESOURCE: To date, Canyon Copper has completed 71 drill holes totaling 27,605 feet on the Longshot Ridge oxide copper skarn deposit. As a result of Canyon Copper's drilling program of 38 drill holes in 2004 and 2005 and historical drilling by previous operators, Canyon Copper confirmed an indicated resource of 16,250,000 tons at an average grade of 0.43% Cu and an inferred resource estimate of 2,900,000 tons at an average grade of 0.31% of Cu at Longshot Ridge. This mineral resource estimate does not include 33 drill holes (7 HQ diamond drill holes and 26 reverse circular drill holes) completed by the Company in 2006. The Company's consulting geologists have recommended that the 2006 drill program be re-assayed prior to being incorporated into a mineral resource estimate. Longshot Ridge has not been completely outlined and remains open to the North and to depth. See Canadian National Instrument 43-101 ("NI 43-101") Technical Report filed on SEDAR on May 6, 2010 and news release dated May 3, 2010.

COPPER EXPLORATION TARGET: The previous operator, Conoco Oil Company, completed a significant drilling program and outlined a historical "drill indicated reserve" at Longshot Ridge and Copper Queen. In an internal report dated September 21, 1979, Conoco Oil Company outlined a historical "drilled indicated reserve" of 13,200,000 tons grading 0.55% copper for Longshot Ridge mineralized zone and 142,000,000 tons grading 0.35% copper and 0.015% molybdenum for Copper Queen. The historical "drilled indicated reserve" cited above is mentioned for historical purposes only and is not compliant with current NI 43-101 standards. The reliability of historical estimates is unknown but considered relevant by Canyon Copper. These are historical resource estimates prepared prior to the implementation of NI 43-101 and use terminology not compliant with current reporting standards. Canyon Copper has not made any attempt to re-classify the estimates accordingly to current NI 43-101 standards of disclosure or the CIM definitions. Canyon Copper is not treating this estimate as current mineral resources or mineral reserves as defined in NI 43-101. These historical estimates should not be relied upon.

Canyon Copper Mineralized Zones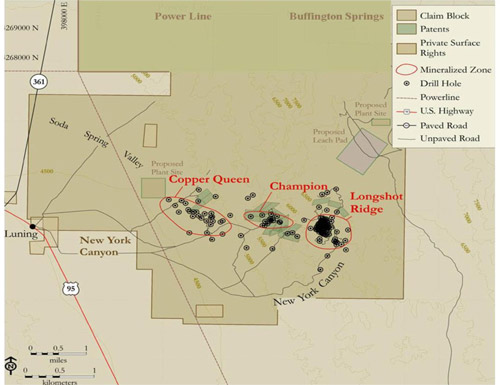 The project offers good mining infrastructure, excellent logistics for exploration and development; including established road systems and high voltage power lines that cross the property. The property has no known serious land or environmental issues, and contains ample room to significantly expand the known copper skarn deposits. Additionally, the project has an interesting upside consisting of porphyry-type copper-molybdenum targets associated with felsic intrusive bodies beneath the Copper Queen sulphide copper skarn deposit.

Political support for the mining industry enjoyed by the state of Nevada was another determining factor for management. The state of Nevada is a mining-friendly state populated with skilled workers. Mining is the largest industry in rural Nevada, and accounts for 87% of total US gold production, making it the third-largest gold producer in the world. The State's geographical location also provides easy access to the Port of Long Beach -- America's second-busiest seaport with annual trade exceeding $100B -- creating potential distribution options for future world markets. Nevada has favorable laws, positive safety regulations, and the lack of political unrest as seen in many other parts of the world. (Economic Overview of Nevada's Mineral Industry Report, Nevada Mining Association).

Management

Canyon Copper has assembled a management team with the experience and real-world expertise to move its project forward towards production. The key management team includes:

Anthony Harvey, Chairman and CEO

Mr. Harvey has been consulting to companies in the resource industry for over 40 years and has worked on numerous projects with capital costs exceeding $400 million. He has first hand experience with a wide range of technical, commercial, corporate and associated public company activities with considerable interface around the world with government agencies, financial institutions and the media. From 1959 to 1989 he worked for Wright Engineers Ltd. - Fluor Daniels in various management positions including, Senior Project Manager responsible for the design, construction and start-up of 14 mines world-wide on behalf of major mining corporations.

From 1988 until October 2000, he was a Founder, Director and Senior Executive of Azco Mining Inc., a resource company trading on the Toronto Stock Exchange and AMEX. Azco's principal mineral property was the Sanchez porphyry copper project located near Safford, Arizona. This project was developed through to the bankable feasibility stage and subsequently sold to Phelps Dodge Corporation for $40 million. Azco's second project, Piedras Verdas, in Sonora State, Mexico which was joint ventured with Phelps Dodge and was put into production by Frontera Copper Corporation at an initial rate of 70 million lbs. of copper per year.

Mr. Harvey is currently the President and Founder of ARH Management Limited, a management and consulting company to the resource industry. He was also a former Chairman and Director of Oremex Resources Inc., and Lake Shore Gold Corp., and a former Director of Cobre Del Mayo, a Mexican copper mining company formed in partnership with Phelps Dodge Corporation, and a Director of Terra Energy Corp.

Benjamin Ainsworth, MA (Oxon), P.Eng. B.C., President and Director

Benjamin Ainsworth is a geologist and mining consultant who has been involved in the mining industry for over forty years. He graduated in 1962 with an honors degree in Geology from Oxford University in England. He joined Placer Development in 1965 and held positions of Senior Geologist, Chief Geochemist, Exploration Manager -- Eastern Canada, Exploration Manager -- Chile, and President -- Placer Chile, South America. Throughout the 1970's, Mr. Ainsworth was involved in the design, budgeting and implementation of exploration programs that included large and small drill programs, geophysical surveys, geological mapping, geochemical surveys, and a full range of project evaluation studies. He is a registered Professional Engineer in the Province of British Columbia and is a Canadian citizen by naturalization. Mr. Ainsworth is also Principal of Ainsworth Jenkins Holdings Inc., an international mining consultancy and a director of several reporting companies including ESO Uranium Corp., Hathor Exploration Limited, Dajin Resources Corp., Black Panther Mining Corp., Columbia Yukon Explorations Inc., and Sultan Minerals Inc.

Qualified Person

Mr. Ainsworth, MA (Oxon), P. Eng. B.C., the President of the Company, has reviewed and approved the contents of this news release and is a Qualified Person as defined by National Instrument 43-101.

For further details on the Company, readers are referred to the Company's web site www.canyoncc.com and to the Canadian regulatory filings on SEDAR at www.sedar.com.

On behalf of the Board of Directors,

"Anthony Harvey"

CANYON COPPER CORP.
Anthony Harvey, Chairman and CEO

Cautionary Statement Regarding Forward Looking Information

This News Release may contain, in addition to historical information, forward-looking statements within the meaning of Section 27A of the Securities Act of 1933, as amended, and section 21E of the Securities Exchange Act of 1934, as amended. These forward-looking statements are identified by their use of terms and phases such as "believe," "expect," "plan," "anticipate" and similar expressions identifying forward-looking statements. Investors should not rely on forward-looking statements because they are subject to a variety of risks, uncertainties and other factors that could cause actual results to differ materially from the Company's expectations. These factors include, but are not limited to the following, the Company's ability to complete its proposed exploration program to re-analyze samples obtained from its 2006 drill program on Longshot Ridge, the Company's ability to advance the New York Canyon Project to near-term operation, the Company will obtain additional financing to implement its proposed exploration program, geological or physical difficulties affecting the Company's planned geological work programs, uncertainty of estimates of mineralized material and other factors which may cause the actual results, performance or achievements of the Company to be materially different from any future results, performance or achievements expressed or implied by such forward-looking statements.

Cautionary Note to U.S. Investors Regarding Estimates of Measured, Indicated and Inferred Resources

This News Release uses the terms "measured", "indicated" and "inferred" "resource" in accordance with National Instrument 43-101 -- Standards of Disclosure for Mineral Projects, as required by Canadian securities regulatory authorities. We advise U.S. investors that while these terms are recognized and required by Canadian regulations, the SEC does not recognize them. "Inferred resources" have a great amount of uncertainty as to their existence, and great uncertainty as to their economic and legal feasibility. It cannot be assumed that all or any part of an "inferred mineral resource" will ever be upgraded to a higher category. Under Canadian rules, estimates of "inferred mineral resources" may not form the basis of a feasibility study or prefeasibility studies, except in rare cases. The SEC normally only permits issuers to report mineralization that does not constitute "reserves" as in-place tonnage and grade without reference to unit measurements. The term "contained copper pounds" used in this News Release is not permitted under the rules of the SEC. U.S. investors are cautioned not to assume that any part or all of a measured, indicated or inferred resource exists or its economically or legally mineable.