Highlights
Focus on Critical Minerals Exploration
Searchlight first boots-on-the-ground exploration of the Kulyk Lake Rare Earth and Uranium project
Staking of Jan Lake LCT Pegmatite target
Strengthening the Company's long-term future by securing 100% ownership of the Bootleg Lake Gold project
Strengthening of Management Team
Searchlight's 2022 focus was on the staking and exploration of Critical Minerals targets in Saskatchewan.
Kulyk Lake
Our highest priority target for 2022 was the investigation of the strong radiometric anomalies near Kulyk Lake, for uranium and rare earths. Searchlight has greatly expanded the prospective exploration area and determined that the radiometric anomalies at Kulyk Lake represent a large pegmatite system containing zoned occurrences of rare earths and uranium.
The Kulyk Lake property is approximately 65 km south of the operating uranium mill at Key Lake, and could provide rare earths feed for the refinery built by the Saskatchewan government in Saskatoon. Despite the attractiveness of the grades identified and favourable logisitics for mining, no historical drilling has been done in the Kulyk Lake area.
Kulyk Lake map showing airborne radiometric survey anomalies over known uranium and rare earth occurrences. Image displays Total Counts for Uranium, Thorium and Potassium radiation. (Lakes are in blue).
This map shows the radiometric system in and around Kulyk Lake. Prior to the completion of an airborne radiometric survey in the fall of 2021 by Searchlight, no modern detailed airborne radiometric survey had been done. Consequently, previous work focused on the south-east side of Kulyk Lake, which was more accessible. Here, a historic uranium zone, the Eldorado Zone, had been identified, and a high-grade rare earths zone, called the Fanta Zone, was trenched and sampled.
Between 2007 and 2010 Eagle Plains geologists did excellent work, elevating the Eldorado and Fanta Zones to a drill-ready stage. It is apparent that the rare earths and uranium are part of a large pegmatite system hosting both types of mineralization. These systems in northern Saskatchewan host rare earths in the pegmatites, and uranium within and peripheral to the pegmatites, at the contacts with the host Wollaston sediments.
Fanta Zone
The Fanta zone is the historically known high-grade rare-earth zone with values that approach the theoretical maximum grades possible for the rare earths ore mineral Monazite.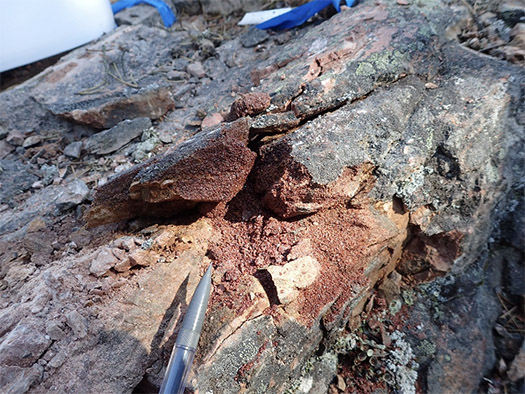 Outcropping of Massive Monazite in the Fanta Zone Trench
This area has been surveyed with magnetics, radiation, radon, rare earths and soil geochemistry, trenching, rock sampling and geological mapping in an area roughly 2 kilometers by 500 meters. It covers the area of historically known high-grade rare earths mineralization and uranium mineralization along strike 600 meters to the southwest. It was recommended for drilling by Eagle Plains but never drilled due to adverse market conditions.
Searchlight has added to the knowledge of the zone by collecting a twenty-six-kilogram sample from the surface trench and contracting the Saskatchewan Research Council to do basic metallurgical tests. Metallurgical results are pending.
Eldorado Zone
The Eldorado zone is a historically known uranium zone located approximately 600m southwest of the Fanta Zone. A bedrock exposure of uranium mineralization with sample grades up to 0.76% uranium oxide (U3O8), is part of the same pegmatite system hosting the Fanta Zone. Best trench result was 0.326% uranium over one meter, from previous work. Searchlight's airborne survey revealed a strong one-line anomaly over the Eldorado Zone.
Fanta South
A 300-meter-long zone of rare earths in soils (lanthanum) is coincident, in part, with a 500-meter-long magnetic zone. No surface mineralization has been found to explain the geochemical results.
Whaleback Ridge
An exposed ridge of low-grade uranium mineralization forms part of a large airborne uranium radiometric anomaly discovered by Searchlight in 2021. The main anomaly has anomalous uranium values in rock assays, but our geophysical consultant believes the airborne results are indicative of a higher-grade source yet to be located. Searchlight has carried out a mobile metal ion geochemistry survey in and around the radioactive target to locate the best areas for further work. Results are pending.
Yellow Brick Road Zones
A zone of uranium and rare earths mineralization in trenches on a bluff on the northwest side of Kulyk Lake. Eagle Plains geologists noted that the Yellow Brick Road Zone contains a rare earths zone and uranium zone separated by 500 meters, and may be a folded repetition of the Eldorado-Fanta Zone across the lake. Eagle Plains grab samples included 0.81% U3O8 and 2,025 ppm TREE+Y. Best trench result was 0.3% TREE and 0.025% U3O8 over 2.3 meters. Searchlight has established a large mobile metal Ion survey covering this zone and is awaiting follow-up rock assays from surface prospecting.
Hot Ridge
An airborne target for rare earths mineralization, several hundred meters long at the northwest end of Kulyk Lake, was investigated. This is a new zone of potential rare earths in pegmatites. Geological consultants from Axiom followed up on thorium anomalies and confirmed rare earths in two new areas at Hot Ridge, with assays of 0.95% TREO in a grab sample. The second area had a grab sample of 0.85% TREO. Assays from numerous rock chip samples collected in October are pending.
Jan Lake and Hanson Lake
Further to the south, in the Flin Flon Greenstone Belt, Searchlight has acquired a new Rare Metals pegmatite prospect adjacent to the Company's Hanson Lake project. The Jan Lake prospect covers approximately 150 sq km, and was staked by Searchlight when the previous claims expired.
Previous work in the Jan Lake and Hanson Lake area was largely limited to regional mapping which identified multiple pegmatite units, but with limited geochemical analysis. In addition, a few academic papers and a single exploration program focused on rare metal pegmatites within 1 kilometer of Highway 106. The pegmatites within the Searchlight claims have been mapped as beryllium pegmatites, with anomalous Beryllium, Rubidium, Gallium, Tantalum, Cesium and Lithium.
A private Alberta company has completed an option to earn 50% of the original Hanson Lake claim and JV will be negotiated. The primary focus of this option was defining a geophysical anomaly which may be VMS related. Searchlight plans to continue investigating Rare Metal pegmatites on this claim.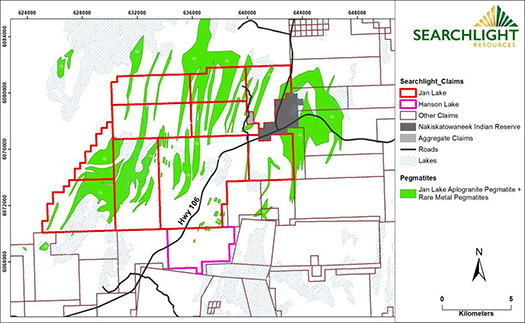 According to John Kaiser, a well-known mining analyst and newsletter writer with a focus on specialty metals, we can expect significant price action in lithium exploration stocks over the next year, and Jan Lake has lithium exploration potential. He is focusing his recommendations on hard rock plays for lithium, especially those companies which are exploring pegmatites. He has picked Searchlight, along with five other juniors, as his selection of companies to follow for significant capital appreciation potential.
Duddridge Lake
Duddridge Lake, located in the La Ronge district, hosts historic uranium resource which occurs in conjunction with other battery metals, notably copper, vanadium, and cobalt. In the fall of 2021, Searchlight carried out a detailed airborne survey and found new uranium and thorium targets. Follow-up ground prospecting was done in the fall of 2022 to ground-truth the airborne anomalies. Assay results are pending.
Flin Flon Area Gold
Searchlight has put together a district-scale gold project west of Flin Flon, covering four former producing gold mines (the Bootleg Lake gold property). The company has also compiled data on an advance gold prospect (Robinson Creek) where 70 prior drill holes point to the prospect of establishing a 43-101 resource by confirming past results. In 2022, Searchlight earned a 75% interest in Bootleg Lake and has negotiated the purchase of the remaining 25 % interest and underlying royalty, subject to the approval of the shareholders of the vending group.
Searchlight-People
In 2022 Searchlight strengthened the management team adding Mr. Bruce Fair as an independent director. Mr. Fair is President and founder of Mench Capital Corp., which has participated in and/or originated the formation of in excess of $500M+ in private and public equity transactions over the past 22 years, with a focus on flow through transactions for resource companies. Mr. Fair has acted as a director for Maple Leaf Funds, Nationwide Self Storage Trust I and for Next Edge Capital.
The company also added to its Advisory board, naming Dr. John Belhumeur, PhD as an advisor. Dr. Belhumeur operates an advisory service, Morningstar Public Relations, and has over 27 years' experience in communications with Indigenous people. Since his appointment, he has been invaluable in consultations with English River First Nations, the First Nations which has ancestral lands around Kulyk Lake.
Searchlight Results expected in early 2023
- Metallurgical test results from Kulyk Sample
- Geochemical survey results from Kulyk Lake
- Surface prospecting assays from Kulyk Lake and Duddridge Lake
Qualified Person
Stephen Wallace, P.Geo., is Searchlight's Qualified Person within the meaning of National Instrument 43-101 and has reviewed and approved the technical information contained in this news release.
About Searchlight Resources Inc.
Searchlight Resources Inc. (TSXV:SCLT, US:SCLTF) is a Canadian mineral exploration and development company focused on Saskatchewan, Canada, which has been ranked as the top location for mining investment in Canada by the Fraser Institute. Exploration focus is on battery minerals and gold throughout the province, concentrating on projects with nearby infrastructure.
On behalf of the Board of Directors,
"Stephen Wallace"
Stephen Wallace, President, CEO and Director
SEARCHLIGHT RESOURCES INC.
For further information, visit the Company's website at www.searchlightresources.com or contact:
Searchlight Resources Inc.
Alf Stewart, VP Corporate Development
(604) 331-9326
info@searchlightresources.com
Forward-Looking Statements
Information set forth in this news release contains forward-looking statements that are based on assumptions as of the date of this news release. These statements reflect management's current estimates, beliefs, intentions and expectations. They are not guarantees of future performance. The Company cautions that all forward-looking statements are inherently uncertain, and that actual performance may be affected by a number of material factors, many of which are beyond the Company's control. Such factors include, among other things: risks and uncertainties relating to the Company's limited operating history and the need to comply with environmental and governmental regulations. Accordingly, actual and future events, conditions and results may differ materially from the estimates, beliefs, intentions and expectations expressed or implied in the forward-looking information. Except as required under applicable securities legislation, the Company undertakes no obligation to publicly update or revise forward-looking information.
NEITHER TSX VENTURE EXCHANGE NOR ITS REGULATION SERVICES PROVIDER (AS THAT TERM IS DEFINED IN THE POLICIES OF THE TSX VENTURE EXCHANGE) ACCEPTS RESPONSIBILITY FOR THE ADEQUACY OR ACCURACY OF THIS RELEASE.