Highlights
Project consists of 5 claim blocks covering a total of approximately 3,413 hectares
Targeting the Quetico Ultramafic Intrusions
Option to acquire 71% interest
Location
The Samuels Lake project is located approximately 55 km west of the town of Atikokan, Ontario, (North Western Ontario). The project consists if 5 claim blocks covering a total of approximately 3,413 hectares.
In October 2017 Searchlight Resources entered into an option agreement with ProAm Explorations to acquire up to 71% in the original Samuels Lake Claims (Block1). In April 2017 the company staked 4 additional claim blocks which cover the Surprise Lake, Harnett Lake, Day Lake and Whalen Lake intrusions.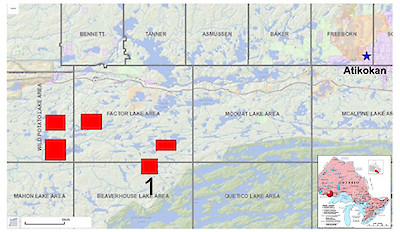 Figure 1. Samuels Lake Location Map
The exploration target is the Quetico Intrusions which are a series of ultramafic–mafic intrusions that occur along the northern Quetico subprovince boundary, and are commonly accompanied by Cu–Ni–platinum group element (PGE) sulphide mineralization.
The Quetico subprovince is a metasedimentary belt bounded by two granite- greenstone belts, the Wabigoon Subprovince to the north and the Wawa Subprovince to the south. The belt consists of metamorphosed greywakes and siltstones on the southern margin of the Wabigoon ac before the collision of the Wawa arc from the south.
Geological Setting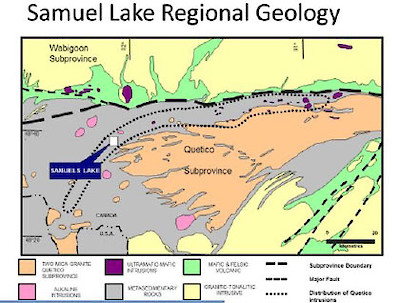 Figure 2. Samuels Lake Regional Geology
The Quetico Intrusuions are all late Archean in age and represent the final mantle derived magmas before cratonization of the Canadian Shield. The intrusions vary in size from 3-5m thick dykes to elliptical stocks up to 3,300m by 1,800m in surface outcrop. Given the difference is weathering profile of the intrusions in comparison to country rock the intrusions are often manifest as lakes.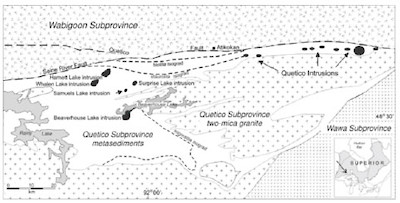 Figure 3. Geological map of the western Quetico Subprovince, northwestern Ontario. Long dashed lines represent major faults, short dashed lines represent metamorphic isograds.
Historical Drill Results
1) 1998 - 2001
joint venture between StarCore Resources Ltd and ProAm Explorations Corporation which included property scale geophysical surveys, prospecting and trenching of the discovery area.
DDH program of 12 holes totaling 2,748 m. to test electromagnetic and magnetic anomalies
Drill hole SM 99-3, intersected 45.74 meters of 0.64% Ni, 0.82 % Cu, 0.8g/t Pt+Pd+Au and up to 0.08% Co.
2) 2007 - 2008
Teck/Cominco option with exploration program including, UTEM and ground magnetics
DDH program of 7 drill holes totaling 2,544.5 metres with following results
Hole SL 08-13 0.39% Ni, 0.85%Cu, 0.075% Co over 14.3m from 234.7m to 249.0m
Hole SL 08-14 0.21% Ni, 0.30% Cu, 0.03% Co over 33.5m from 167.0m to 200.5m
Hole SL 08-15 0.23% Ni, 0.52% Cu, 0.034% Co over 15.2m from 107.4m to 122.6m
which includes 0.57% Ni, 1.299% Cu, 0.066% Co over 3.1m from 107.4m to 110.5m
Planned Exploration
At present Searchlight Resources plans to carry out reconnaissance level prospecting and mapping on the 4 new claim blocks along with a detailed compilation of all available data.