Highlights
VMS target within Kidd Munro Assemblage – similar to Kidd Creek Mine
Historical drilling results as high 4.9% copper and 0.27% cobalt
Grab samples up to 1.7% of nickel, 1.77% of copper, and 0.14% of cobalt
Newly acquired with option to earn 100% ownership
Location
The Munro Warden property is located approximately 85 kilometres east of Timmins, Ontario and 55 kilometres north of Kirkland Lake, Ontario.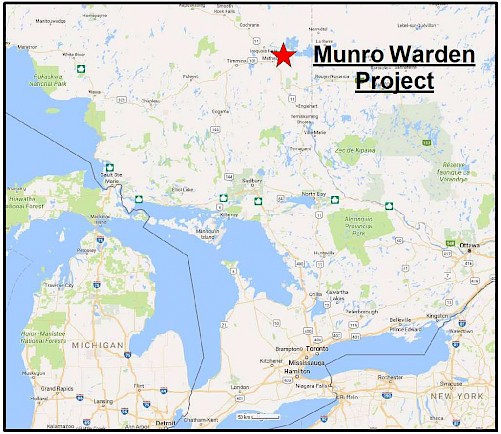 The property consisting of 9 mining leases and 6 mineral claims totalling 717 hectares located in the eastern part of the Kidd-Munro assemblage of the Abitibi Greenstone Belt.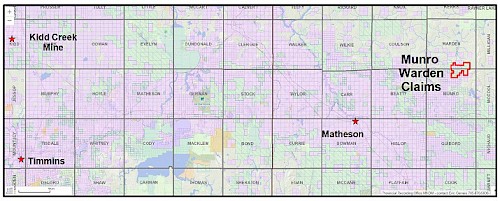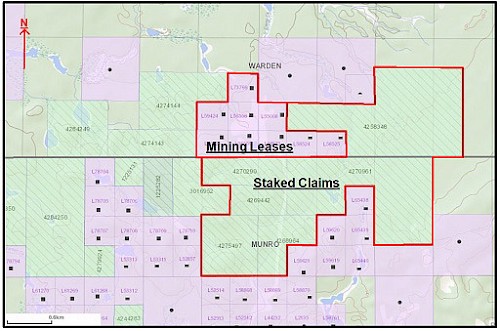 Geological Setting
The Abitibi greenstone belt is one of the largest, best-preserved, and mineral-rich greenstone belts in the world. The Kidd-Munro sequence hosts a number of mineral deposits, including the world-class Kidd Creek volcanogenic massive sulphide deposit, the Dundonald and Alexo komatiitic nickel deposits and several major lode gold deposits. In Munro Township, copper and zinc bearing massive sulphides have been mined at the Potter Mine and the Potter-Doal Mine, gold at the Croesus Mine and asbestos at the Munro Mine.

Resource
The Munro Warden project was part of Natural Resources Canada's Targeted Geoscience Initiative Program-3 (TGI-3) which was designed to provide integrated geoscience knowledge pertaining to areas of high base metal potential, with the intent of stimulating private-sector resource exploration focused on base metal reserves in established mining communities.
Data from the Ontario Mineral Deposit Inventory database outlines two areas of Copper, Nickel, Cobalt Mineralization within the claims.
Deposit: MDI42A09NE00098 – Mineralization Comments

"18-Feb-97 (C Salo) - Disseminated, blebby, veinlet controlled, and massive magnetite, pyrrhotite, and chalcopyrite mineralization occurs within the variably sheared and serpentinized peridotitic base of the discordant ultramafic body which hosts the serpentine industrial filler mineralization of the Hedman Mine (described in the report for the Hedman Mine). This sulfide mineralization is reported (assessment files, Resident Geologist's Office, Kirkland Lake) to assay as much as 1.7% of nickel, 1.77% of copper, and 0.14% of cobalt where it has been sampled via Dyman Prospecting Syndicate diamond drilling in 1956 (drill hole nos. B-13 through B-19 and B-21) and from surface pits along a strike length of 2,000 feet."


Deposit: MDI42A09SE00160 – Mineralization Comments

"18-Feb-97 (C Salo) - Diamond drilling on or near claim no. 53321 (the southeast quarter of the north half of lot 6, concession VI, Munro Township) at an unspecified date by the Dyman Prospecting Syndicate (hole nos. SB-1, SB-2, and SB-3, totalling 894.5 feet) is reported (assessment files) to have intersected variably calcite altered graphitic rhyolite hosting massive and disseminated chalcopyrite and sulfide mineralization. This drilling is reported (assessment files) to have yielded copper assays as high as 4.9% and cobalt assays as high as 0.27%. The sulfide mineralization sampled by the drilling is likely from the same or a stratigraphically closely related sulfidic horizon which occurs about 850 m west northwest of the occurrence at the Potterdoal deposit (described elsewhere in this compendium). Shklanka (1969) reported that pits excavated in rhyolite within claim no. 53314 (the northeast quarter of the north half of lot 6 concession VI, Munro Township) also explored pyrite and chalcopyrite mineralization, but no assays from this area are provided by him."
Planned Exploration
Searchlight Resources has begun data acquisition and compilation of existing data in preparation for field work. In early August a site visit, along with reconnaissance sampling was completed.